Request An Appointment
Quick Financing, No Hassle Approval
Same Day Installations
Top Rated in the New Orleans Area
Family Owned and Operated
Book Now
Quick Contact
Error: Contact form not found.
Generator Installation & Repair in New Orleans, LA
During any emergency event where power could be lost, it's essential to have a reliable backup power system installed to provide security, comfort, and safety for your family. And if you're native to Louisiana, there's no better solution than backup generator installation in New Orleans, LA!
H&E Comfort Services is LA's premier generator repair, maintenance, replacement, and installation company. We've been working with all types of generators for years, and our technicians can install, fix, or service any unit under the sun. Our certified staff will stop at nothing to ensure your comfort. Keep reading to learn more about our generator services — or to find out if you might need one at your home!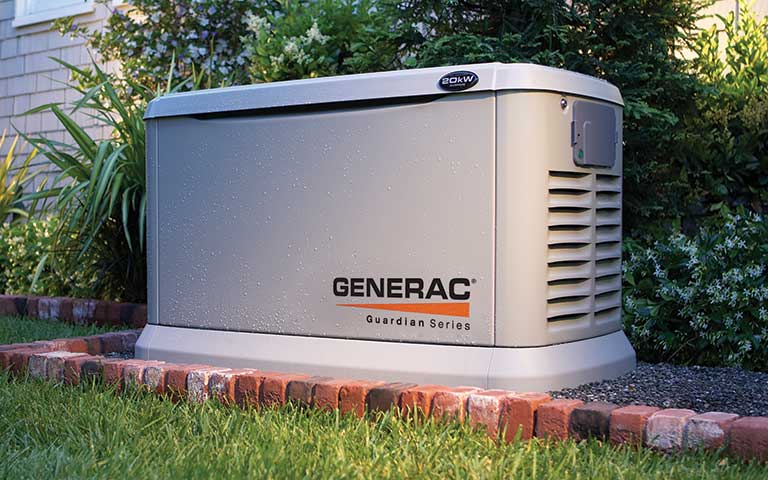 Providing Generator Services Throughout New Orleans
If you've ever considered generator installation in New Orleans, LA, you're in luck. H&E is right in your neighborhood! Our generator services experts travel throughout the greater NOLA area, as well as these nearby communities in LA:
Gretna
Harvey
Metairie
Kenner
Marrero
Avondale
Westwego
Terrytown
Timberlane
Belle Chasse
Algiers
Arabi
Chalmette
And more!
Choosing the Right Generator
Since generators are a safe way to get power during a storm, many Louisiana homeowners buy home generators because of our state's tendency towards extreme weather. However, it's important to consider what you're looking for before scheduling generator installation in New Orleans, LA.
There are two main types of generators: permanent backup generators and portable backup generators. Our generator installation company primarily deals with permanent generators, but we can repair most other makes and models as well.
H & E Comfort Services has been family owned and operated in the New Orleans area for over 6 years. Our certified staff will stop at nothing to ensure your comfort.
Installing a permanent backup generator at your home will offer safety when power is lost. These backup generators provide electricity to your home's essential systems, such as air conditioning and heating services, major appliances, TVs, internet equipment, and wall outlets. In other words, your backup generator is always available to automatically provide the power you demand within just a few seconds of power being lost.
Portable backup generators are just what the name implies — they can be picked up and moved around. However, this convenience has a trade-off since they are not nearly as powerful as permanent units.
Home Backup Generator Installation
Choosing the best power generator for your property calls for careful consideration. The best generator you can choose is a permanent generator that supports your whole home. Because every residence is different, you want to ensure you consider all your electrical necessities in order to preserve your family's comfort and safety while the backup generator is on.
When you schedule generator installation in New Orleans, LA, our experienced generator installers will help you choose the ideal unit for your living space. We can work out all your questions to offer you the generator size, capacity, and capabilities that you need. It's never been easier to enjoy power anytime — no matter what Mother Nature brings!
Generator Repair
Even the best home generators run into trouble sometimes. If your generator isn't turning on, has started operating inefficiently, or appears to be damaged, contact our generator repair company. We'll get your unit working again in no time!
Generator Maintenance
Your generator needs routine service to perform at its best. If it's been a long time since you gave your generator a little TLC, contact us for a service appointment. We'll inspect your system and make sure it's operating the way it should, then make any necessary repairs or changes to keep it running.
Whole-House & Emergency Home Generators for Sale
We don't just repair and replace the best home generators on the market. H&E also offers a wide variety of generators for sale! And since we uphold our generator, cooling, and heating installation services with a 100% satisfaction guarantee, you'll never have to worry about getting cheated out of your hard-earned cash.
We proudly install Generac®, a top home backup generator brand. The models we carry vary from 7.5kW to 150 kW of power, which is more than enough electricity for most residences.
The Advantages of Emergency Home Generators
When you invest in home generator installation in New Orleans, LA, you'll keep your home much more comfortable year-round. Here are just a few reasons why our customers buy home generators:
Generators automatically switch on and bring back power anytime primary power is interrupted.
Generators can power all important functions in your house, including air conditioning, heating, kitchen appliances, and internet routers.
A generator delivers uninterrupted power to your home's electrical system, protecting you from dangerous power surges.
Enjoy Peace of Mind With a Whole-House Generator
Don't wait until the next storm rolls through town to get a home backup generator. The ideal time to get a generator is right now, before wild weather strikes. Hundreds of homeowners throughout Gretna, Harvey, Metairie, Kenner, Marrero, Avondale, Westwego, Terrytown, Belle Chasse, Algiers, Arabi, Chalmette, and Timberlane, LA, are benefitting from their home backup generators. Schedule generator installation in New Orleans, LA, today, and experience peace of mind for yourself and your family! Get in touch with our generator installers by giving us a call or scheduling an appointment online. We're excited to help you keep your home safe!
Our team offers generator sales and installation in Greater New Orleans and the surrounding areas. Call (504) 343-8576 to make an appointment.