HVAC Company in New Orleans, LA
Even though today's heating and cooling technology has only been around for a few decades, it's already impossible to imagine life without functional HVAC systems. And here in Louisiana, where the summer heat can be dangerous, having a working air conditioner isn't just a matter of comfort. It's a matter of health and safety, too.
Thankfully, you're far from doomed if your AC unit breaks down. When you have the right HVAC company in New Orleans, LA, on your side, it's easy to keep your family safe no matter what the seasons bring.
H&E takes pride in being the top family-owned and operated HVAC company in New Orleans, LA. Our heating and cooling experts are fully licensed and insured, meaning that we can get your job done the right way the first time around. Partner with us for your HVAC needs and experience true comfort year-round. We're excited to learn what we can do for you!

HVAC Company in New Orleans, LA
Your Local & Reliable Heating and Cooling Contractors
If you're reading this, a qualified HVAC expert is probably right down the road from you! Our HVAC technicians serve the entire NOLA area. You can also find us in these nearby locations in LA:
Gretna
Harvey
Metairie
Kenner
Marrero
Avondale
Westwego
Terrytown
Timberlane
Belle Chasse
Algiers
Arabi
Chalmette
And more!
Our Heating and Cooling Services
We provide a full suite of cooling and heating services at H&E. Here's a brief overview of what you can expect from our HVAC company in New Orleans, LA:
It's impossible to stay cool in the Louisiana heat if your air conditioner isn't working. We provide repair, replacement, and installation for all air conditioning units, whether central air, window units, or other systems. If you're experiencing an AC emergency, click "Book Appointment" to contact us now!
When it's chilly outside, stay toasty with H&E. We provide repair, replacement, and installation for all heating units, including furnaces, central heating systems, and more.
Our HVAC contractors perform all necessary installation, repair, and replacement for dual heating and cooling systems (such as heat pumps). We also specialize in installation, repair, and replacement for ductless systems (such as mini-splits)
Our crew is always available for system inspection and maintenance for all heating and cooling systems. You can even save big on tune-ups with our maintenance plans.
Keep the power on after the next big storm with a brand-new generator! Our technicians are experienced with home standby generators. Contact us today if you're interested in generator installation, repair, sales, or maintenance.
Indoor air quality (IAQ) matters more than you might think, especially if you or anyone else in the house frequently experiences allergies or illnesses. Let our HVAC team assess and improve the quality of the air you're breathing in your home.
$89/off
Furnace Tune-Up Special
Limited Time Offer!
Take Advantage of This Limited Time Special
Offer Ends 2/28/2023
$89/MO
Guaranteed Financing on AC & Heat Replacement- Get A Free Quote Today!
Same Day Approval
Conditions Apply
FREE
Whole Home Generator Estimate
Can not be combined with any other offer.
Conditions Apply
Why Our HVAC Contractors Outperform the Competition
There are plenty of other heating and cooling companies in the NOLA area, but no other area companies can compare to H&E! It's these factors that set our heating and cooling contractors apart from the rest:
To be considered for a position at our HVAC company in New Orleans, LA, you have to be punctual, positive, productive, and passionate about the job — and that's just the beginning. Our HVAC home services experts are highly qualified to perform almost any task you could imagine, from replacing AC filters to performing a completely new heating installation. And our technicians are always training, learning, and growing, so there's nothing they can't tackle!
Integrity, Transparency, and Reliability
Our HVAC contractors are professional, courteous, and honest at all times. Whether you need heating repair or you're shopping for generators, you'll never feel like you're being sold anything you don't need or getting swindled out of your money. During each service call, we will communicate with you throughout the process to inform you of your options and provide you with a free cost estimate.
If you're passionate about supporting local family-owned businesses in Louisiana, we'd be a great match for you. Our HVAC company in New Orleans, LA, is family-owned and operated, so as you might expect, we know firsthand what it means to you to have your family happy while at home.
Commitment to Customer Service
Customer service is a big deal for us. From the moment you pick up the phone to schedule heating and cooling services, we strive to make your entire experience quick, easy, and enjoyable. And since we believe that residential HVAC services shouldn't break the bank, we're always looking for ways to provide high-quality work at affordable prices. Check out our promotions page for our current special deals!
Expert Service, Guaranteed
On top of our amazing installation quality, courteous technicians, and superior customer service, we also offer a little "something extra" for our customers. What is that "something extra?" Our Expert Service Guarantee, of course! All our work is backed by a 100% AC/Heating Guarantee for a full year. That's what we like to call "Expert Service, Guaranteed!"
Residential HVAC Services You Can Always Depend On!
H&E Comfort Services is the top HVAC company in New Orleans, Gretna, Harvey, Metairie, Kenner, Marrero, Avondale, Westwego, Terrytown, Belle Chasse, Algiers, Arabi, Chalmette, and Timberlane, LA. Experience our HVAC home services for yourself and see why we leave all the other heating and cooling companies in the dust! Schedule your appointment by calling our HVAC technicians or clicking "Book Appointment." We'll get right back to you!

Book Online
For an Appointment
Select an available date and time below, then fill out your contact info below with brief description of what you need and one of our team members will contact be in touch. For emergency service, please call (504) 343-8576.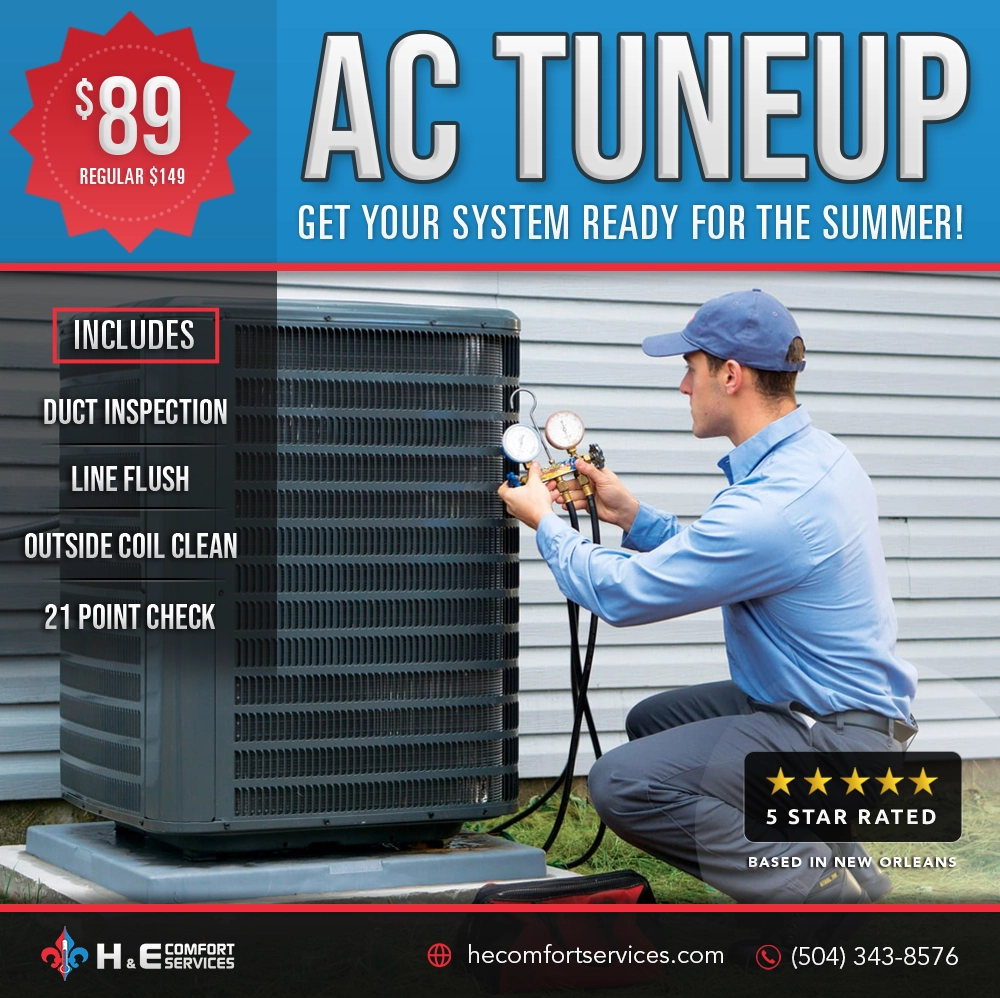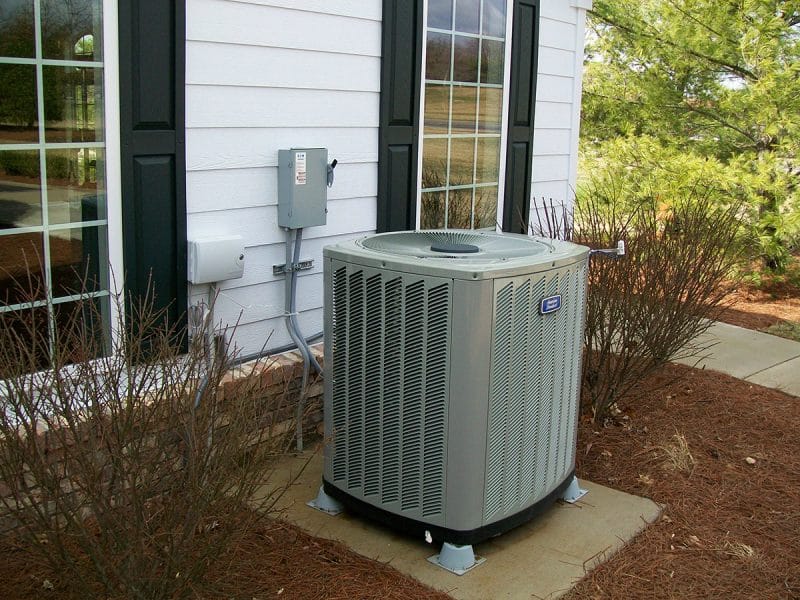 Request a Quote
Get an Estimate
Want to get a quote for an upcoming project? Enter your contact info below as well as the type of project and a brief description of what you need, and one our team members will get back to you shortly to provide the information requested. If you are unsure exactly what you need, don't worry- just let our team member know when we contact you. For emergency service, please call us at (504) 343-8576.

Our Proven History
What We Have Done
H & E Comfort Services work is backed by our 100% local AC Guarantee for a full year. That's what we like to call "Expert Service, Guaranteed." We also offer a variety of home energy solutions so you can start lowering your heating and cooling expenses.

Testimonials
What Our Customers Say About Us
Read what our past customers say about their experience with H & E Comfort Services. All our reviews are verified from real customers in the New Orleans area from work we've done in recent times.
One of the Best Utility service businesses I have ever used. Adam was the best, he got me up and running in no time. I would recommend to anyone quick, knowledgeable, and got that "friend came over to fix your truck" feel they are truly on my list of Best in the Biz!
I can not say enough good things about H & E Comfort Services. From the wonderful customer service to the polite and punctual technicians, we are very pleased with every aspect of service H & E provides.
Great reliable service, in middle of the summer with everything going on I made one simple call and "BOOM" I had a great service technician that same day come out and service my A/C… a little boost of free-on and a complete check of my unit and I was back and running as it should…. thanks again H & E for everything..
H & E Comfort Services went above and beyond to fix our Air conditioner. Would highly recommend them! 5 stars for service & professionalism!
Repair was prompt, response and service was impeccable. H & E Comfort Services is a great company to use for repair, servicing, cleaning or installation.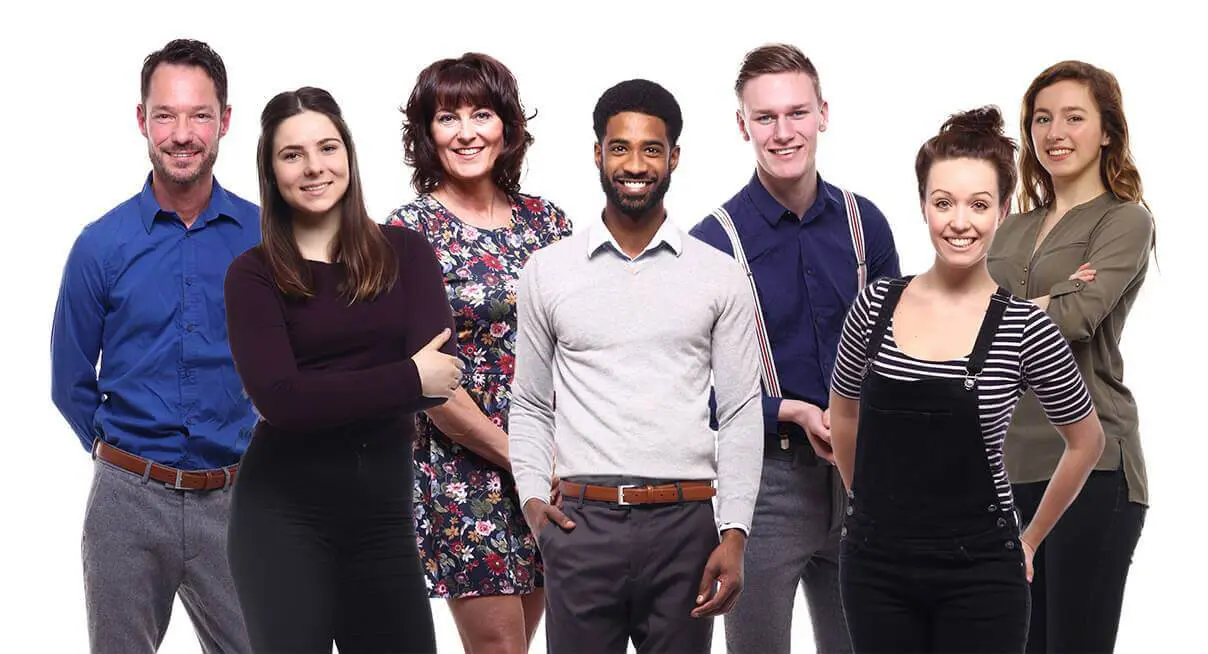 New Orleans Premier HVAC Services
Family Owned & Operated.